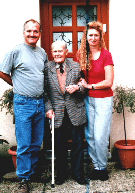 Meet your hosts at Les Alouettes B&B on the Somme
Hello, we are Vic and Diane, your hosts at Les Alouettes B&B on the Somme.
We have a deep love of the battlefields and spent many years visiting them before we decided to open our B&B on the Somme and offer pilgrimage tours.
Before coming to the Somme we had very different careers. I was a journalist and Diane was an accountant.
Visits with Great War veterans
For many years we ran the East Midlands branch of the Western Front Association. Our greatest privilege was knowing Great War veterans. We spent much time with them and even visited together their former battlefields. A few even stayed here at Les Alouettes B&B on the Somme!
Personalised Pilgrimage Great War tours
A wealth of knowledge of the battlefields has been acquired as well as experience helping others get the most from their visits. A particular strength is offering personalised tours for visitors and literally following in the footsteps of their ancestors. Please visit our battlefield tour page for information.
We also offer guided tours focusing on the Commonwealth countries, Canada, South Africa, New Zealand and in particular, personalised Australian battlefield tours. Also, our Allies the French where we take our tours to Verdun. A recent tour package we have put together is a visit to discover the Italian Isonzo battlefield of Caporetto.
Accommodation can be offered in our B&B as well as in our well-appointed self-catering gite, Fairbanks, next door.
Our aim is to make your stay and visit to the Somme unforgettable.
Skylark Battlefield Tours.

"In September of 2022 we were looking to spend some five or six weeks touring France including and most importantly a two-day Tour of the WW1 Battlefields. This trip had been planned pre Covid and we were then going to do this Tour through another guide however he had retired, through a friend put us in touch with Vic and Diane Piuk of Skylark Battlefield Tours. It was like striking Gold or winning the Lottery as this couple turned out to be amazing. From our first contact they set out a comprehensive proposed itinerary for us to consider which we accepted immediately. It included those areas that the NZDF had served on the Somme, a visit to the Wellington Quarries, the Commonwealth Memorials and the preserved Great War sites, the Memorial to the Missing British in Thiepval, the preserved trenches at Beaumont Hamel, Lochnager Mine Crater, Caterpillar Valley Cemetery, the Memorial to Missing New Zealanders, the New Zealand Memorial, High Wood and the Fricourt German Cemetery, the Sir John Monash Centre and the CWCC Centre. They would collect us each morning from our Hotel in Amiens which made it extremely easy for us. I guess it took us less than an hour to accept the planned Itinerary, the cost of which was very reasonable. A month prior to leaving New Zealand we contacted then to see if they could also take us to Le Quesnoy which is some distance from our Hotel in Amiens, we had an immediate answer in the affirmative. Immediate responses are another plus for me as I hate waiting days for an answer to a question. On meeting Vic on the first morning, it was like meeting an old friend, we enjoyed his company, his attention to detail and his knowledge. Two days later Diane took us to Le Quesnoy, again it was like meeting someone who we had know for years, you could have sworn Gareth and Diane were sisters. On this trip we also visited a Cemetery at Romeries and an old Church at Rue Paul Bisiau where not only New Zealand Soldiers were buried but also a German Soldier. Totally unexpected visits but that is the quality of Skylark Battlefield Tours, no opportunity to show WW1 history to two 80yr plus New Zealanders was missed. We cannot thank Vic and Diane enough for the experiences we had under their guidance, please in the future if you are contemplating a Tour of the Somme WW1 Battlefields, give them a call, you will not be disappointed."

Roy Le Quesne and Gareth Brownson(Ms), Palmerston North, New Zealand.
I just wanted to write a quick note of thanks for Victors efforts over the last two days, while everything is still fresh in my mind.
Today was excellent but yesterday was extraordinary.
I cannot begin to tell you how much Lachlan and I appreciated his work.
He obviously has a passion for his subject that he brings to his work . His professionalism and his communication are outstanding.
What really impressed us was when he was able to take us to within more likely than not a few hundred metres of the last hours of our Grandfathers battle at Broodsiende.
Today's look at how the wounded were cared for and our Grandfathers likely movements through the casualty stations were exemplary.
I cannot thank you and Victor enough.
I am sure there is always room for improvement, but I can't find a need for it , in Victors efforts.
Warmest regards "
Simon (and Lachlan) Shine