Covid -19 safety measures.
The safety of our guests has and always remains our priority and new procedures have been set in place since the onset of the pandemic.
Before each guest arrives we have added to our cleaning policy by deep cleaning all areas with the approved Government disinfecting products so that everything is sanitised ready and safe for your holiday stay.
Hand gels are located around the property and masks are available on request.
We offer you maximum security, peace of mind and flexibility so that you can enjoy your stay.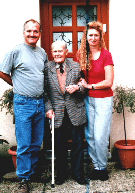 Meet your hosts at Les Alouettes B&B on the Somme
Hello, we are Vic and Diane, your hosts at Les Alouettes B&B on the Somme.
We have a deep love of the battlefields and spent many years visiting them before we decided to open our B&B on the Somme and offer pilgrimage tours.
Before coming to the Somme we had very different careers. I was a journalist and Diane was an accountant.
Visits with Great War veterans
For many years we ran the East Midlands branch of the Western Front Association. Our greatest privilege was knowing Great War veterans. We spent much time with them and even visited together their former battlefields. A few even stayed here at Les Alouettes B&B on the Somme!
Personalised Pilgrimage Great War tours
A wealth of knowledge of the battlefields has been acquired as well as experience helping others get the most from their visits. A particular strength is offering personalised tours for visitors and literally following in the footsteps of their ancestors. Please visit our battlefield tour page for information.
We also offer guided tours focusing on the Commonwealth countries, Canada, South Africa, New Zealand and in particular, personalised Australian battlefield tours. Also, our Allies the French where we take our tours to Verdun. A recent tour package we have put together is a visit to discover the Italian Isonzo battlefield of Caporetto.
Accommodation can be offered in our B&B as well as in our well-appointed self-catering gite, Fairbanks, next door.
Our aim is to make your stay and visit to the Somme unforgettable.