We are an English couple offering you tailor-made tours to where the AIF served on the Western Front during the Great War.
We have had a passion for the Great War for over 25 years and were fortunate in being able to bring back WW1 veterans to their former battlefield haunts. Their stories are recounted during the tour.
We are registered with the Somme Tourist Board as certified guides and have the required licence, insurance and taxes for our tour vehicle.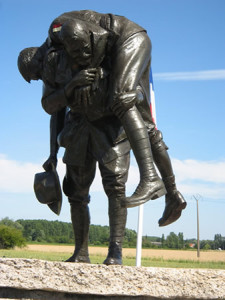 Our tours
Our guided tours are available in our vehicle for individuals and for groups of up to 6 passengers. For those arriving by coach we can offer our guiding services.
Our tours can either start at Arras or Longueau (near Amiens) train station, just one hour from Gare du Nord in Paris; alternatively, a preferred meeting point can be arranged.
We can offer you a range of guided tours from one day, two days, to a three day tour of the Australian battlefields. Itineraries are available on request for all our tours.
We try to personalise the tours so if for example you had an ancestor who served in the Great War we would research where he served and so then follow in his footsteps where possible on the Western Front.
"The ruin of Pozières windmill which lies here was the centre of the struggles in this part of the Somme battlefield in July and August 1916. It was captured on 4th August by Australian troops, who fell more thickly on this ridge than any other." by Charles Bean the official Australian historian.
Day tours – Somme 1916 and 1918
This Somme based tour covers all the major AIF sites on the Somme along with some of the major Commonwealth Memorials and cemeteries. Listed are just some of the sites we visit;
…Pozieres
…Moo Cow Farm
…The Red Baron crash site
…Villers Bretonneux
and preserved trenches and mine craters.
Two day tour
The first day covers Somme 1916 and Somme 1918 with the second day covering either Fromelles, Bullecourt and Arras or Flanders.
Three day tour
We cover Somme 1916 and Somme1918 on the first day, with Fromelles, Bullecourt and Arras on the second day, followed by Flanders on the third day.
Our price includes travelling in our licensed vehicle, access and entry to the historic sites and museums and collection and drop off points. Lunch is taken in a local cafe but this is not included in the price.
For further information on pricing and availability please contact Diane or Vic-contact details below.