WW1 Somme Battlefield Tours
Soldiers of all wars often said that a battlefield was a confusing place. That can be true too for the battlefield visitor! So why not enhance your stay at Les Alouettes with a battlefield tour? We have been visiting these fields for over 25 years and there are few places on the Somme unknown to us. The majority of the 2,000-plus books on our shelves devoted to the Great War have been read or re-read.
Over the years we have acquired an immense collection of facts, figures and stories which can be told 'in situ' for a better understanding and evocative interpretation of what happened. Diane especially has become quite adept with the role the AIF (Australian Imperial Force) played in the Great War with the number of visitors we have received from 'down under' and who we have had the privilege to take out on a guided tour following in their ancestor's history.
The Somme is obviously our home ground, but tours can be requested for other parts of the front, such as Ypres or Verdun, or even looking at the actions of the troops from specific countries such as Australia, New Zealand, Canada, South Africa or USA.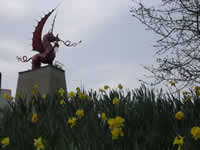 Tours can be arranged for anyone, not just those staying at Les Alouettes, but please note, they are subject to availability.
We are accredited as guides by the Somme Tourist Board and over the years have had hundreds of satisfied clients. Tours can be undertaken in the client's vehicle or in ours. Pick-ups from other locations can be arranged.
The best way to see a battlefield is to see it as Tommy did – on foot- and walking tours are available and a particular speciality.
Whichever tour you decide on, you will be rewarded with one of the most memorable day or days of your life.
Prices for tours and availability on request please.
Tours can even be arranged on certain battalions or regiments – so the visitor can literally follow in the footsteps of their ancestors.